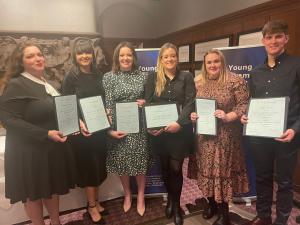 The Young Scotland and Northern Ireland Programme is a 4 day residential annual event, aimed at bringing together various delegates starting out their career in the public sector.
This year, the NI Audit Office sent Fiona Cullen and Sinéad Henry to represent the NIAO in Troon. Here's what they had to say:
The week went past so quickly and turned out to be a very social and one of a kind experience.
It helped us both become more confident speaking to large audiences and expressing our opinions, while also learning how current issues impacted differently across the UK and Ireland.  
As it included the Young Ireland Programme as well, it was great to hear how other civil servants are working and share our experiences.
It wasn't as difficult as  we first thought it would be and everyone was very welcoming which made the whole event so much more enjoyable.
The Young aspect represented people young in their careers, with the youngest delegate being 19 and the oldest delegates ranging from their late 40s to early 50s.
The hard work went in 9-7, with discussion and dialogue, the personal testimonies of inspiring speakers and our own presentations and questions, it was good for us to air our strong feelings on the Friends Sitcom and One Direction.
Group dinners every night gave us a chance to relax and get to know our fellow delegates more on a less formal basis.
The flight home on Friday was full of relieved but sleepy heads, we would definitely recommend this experience to anyone who is starting off in their career in the audit office, be they 19 or 91.
Fiona Cullen and Sinéad Henry