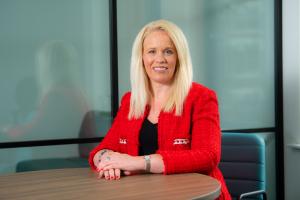 Back in 2019, I was contacted by the Principal of my old school, Assumption Grammar, in Ballynahinch. He was reaching out to see if I could help out with a new initiative the school was trying to set up to reach female students and provide them with guidance and support as they navigated the first steps on their journey as professionals and future leaders.
What initially started as informal discussions, mostly with fellow past pupils of Assumption Grammar working in senior positions in public life and industry, subsequently blossomed into the SistersIN Leadership Programme. The Programme (also developed by partners Danske Bank, the Education Authority, the James Kane Foundation and Women in Business) is all about inspiring young women; helping instil the confidence and perspective they need to discover their full potential. This is achieved through three main methods – leadership training, a bespoke in-school leadership project, and a mentorship programme. I was delighted to sign up to the Programme as a mentor, and am really looking forward to helping my new mentee, a sixth former at Victoria College, Belfast, as she embarks on her future career path. I'm also really proud of the fact that the genesis of the Programme began at Assumption Grammar, where I spent many happy years as a pupil.
One of the great things about how the SistersIN Leadership Programme works is that mentors are matched with pupils who have relevant career interests. The mentee I am working with, for example, has an interest in government and politics. As someone whose career has covered public audit in both central and local government, and who has worked with politicians and senior officials from across the public sector, I'm looking forward to helping introduce my mentee into this world of work. As well as ongoing chats and check-ins over the coming months, I'm also hoping she will have the opportunity to gain some on-site, on the job experience here at the Northern Ireland Audit Office, including a visit to Parliament Buildings at Stormont to see first-hand how we work with the NI Assembly. More generally, I do think it's useful for young women to get an insight into how other women have got to where they have in their careers, and am proud to be working in an industry that women are increasingly joining and regularly feature in senior positions of leadership.
When I reflect back on my younger self as I was sitting my A-Levels, I do feel that things have changed considerably. I think that young people today are generally more informed, more cognisant of the opportunities and careers available to them. I recall my own week of work experience while at school, where I worked in a bank as it seemed a desirable career path full with potential. At the end of that week, one thing I did learn was that banking wasn't for me after all, but knowing what I didn't want was still a major outcome from the exercise.
I think that breadth of experience is absolutely vital in nurturing us as people and professionals, and that's one piece of advice I am keen to pass onto my new mentee. At 17 or 18, you don't know everything and you don't need to have everything decided! Indeed, when I look at our own staff in the NIAO who have come from backgrounds as wide-ranging as music, archaeology, psychology and sports studies, it makes me think that diversity of experience enriches both the individual and their organisation.
That spirit of openness is something that, in my view, is an important trait for a good mentor to have. While naturally a mentor should seek to impart their learning and experiences, you need to be as accommodating as possible rather than being too prescriptive. It's about making a connection, based on trust and honesty, being responsive to your mentee's needs.
At the Northern Ireland Audit Office, we place great value on the role of mentors and the impact they can make. All of our Trainee Accountants and Higher Level Apprentices are designated a Mentor when they join the Office. Going back to what I said earlier - our new trainees come from such a diverse range of backgrounds, and they are coming into what is a busy and dynamic organisation. The Mentor's role is to help the new staff member adjust and settle into their new role, helping the trainee develop the necessary competencies and ensuring they are getting the relevant experience they need. The mentor also provides a support mechanism to the trainee as they complete their work-based assignments, and more generally, acts as an advocate and champion for that staff member.
It's important to point out, though, that our Office doesn't just see value in the role of mentors at the start of people's career. We've also facilitated mentoring for senior and long-serving members, particularly in the development of them as leaders – all of which takes us back to the SistersIN Leadership Programme and the idea of being open to new opportunities that will promote our continued growth and development as professionals. Indeed, as I look towards my upcoming role with the SistersIN Programme, one of the things I'm looking forward to is the opportunity to learn from the fresh perspective and experience of my new mentee. I'm still on a journey too…
(More information on the SistersIn Leadership Programme can be found on the SistersIn website.)