NIAO Higher Level Apprentice Aaron Hawthorne joined our Office in September 2019, and it's certainly been an eventful 12 months in post for him. Alongside the personal and professional adjustments he (and everyone else) has experienced in light of Covid, though, Aaron has also celebrated a major career accomplishment. Earlier in 2020, Aaron was named the Public Services People Managers Association's (PPMA) Apprentice of the Year 2020.
Unfortunately, due to the pandemic, Aaron was unable to receive his award at PPMA's annual gala event (you can watch his online acceptance here), but we caught up with him to hear more about his experience.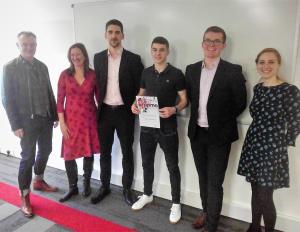 "In January, before terms like Covid-19 and lockdown became the new normal, I travelled to Warwick for the Apprentice of the Year finals, a two-day coaching and competition event.  I was the only candidate from Northern Ireland, with the other twelve finalists all from England. Our first session started off with some "active training", which I thought it would be about ways of keeping an audience engaged. In fact, it was a combination of learning breathing techniques and actives to get you out of your comfort zone. There was also a series of ice breaker challenges, where in groups we would do things such acting out adverts with provided items, singing and dancing. When you do things like that with a group of strangers, though, it makes it easier to get up and speak in front of them.
As a group, we then had to judge our teamwork, leadership and communication skills during the task, and our overall performance. Working at NIAO and in risk assessment really helped me with this, I was able to check for errors a lot quicker than other team members. That said, as a team I thought we did work very well together.
The second task was thinking under pressure. The judges picked out questions or statements, at random and you had to give an answer or opinion. They were all based around self-reflection. The questions were on who you are, what you do, how you came to be in the final, and what do you want to be remembered for. I spoke about working in NIAO as a trainee accountant. I talked about choosing to work here as I didn't want to go to university and why I took this apprenticeship. I spoke about how it had been a busy time in NI with Stormont coming back (before Covid-19) and PAC being back and how I am in a good position with ensuring public money is spent properly by auditing the accounts.
That evening we had a dinner, myself and some of the finalists stayed around after the meal chatting and "a bit of craic". The next morning was more relaxed than the previous day, the judges gave us two manager scenarios; the first was based on how to deal with complaint from one member of staff about another member of staff who smells, the other was you have an assignment which is due by the end of the day and you know you are going to be late, what do you say to your manager. Leathem Green, President of PPMA, then interviewed me on how I would deal with the given scenarios.
They were difficult situations, and you weren't judged completely on your answers, it was also about how you come up with a response and your process. After every exercise we got feedback from the judges which was helpful. Then we did our legacy speech – who you are, what you do, and a bit about your life. Myself and the other finalists were sent away to have lunch while the judges deliberated. The panel was made up of representative from PPMA, Penna and last year's winner.
The time while we waited for the results wasn't very tense, we all had the same kind of mind-set; we gave our best and developed our confidence and public speaking, amongst other skills. I thought "if I win, it will just been a bonus".
We all got a certificate for taking part, and the first award was the Spirit award given to one of the contestants. Then they announced I was the winner! I had received great feedback from the judges, but I wasn't expecting to win. I received a lot of positive comments on social media, which was really nice. The whole environment of the experience was really nice, we all worked together and you never really felt like we were being judged.
When receiving feedback on why I had won, they told me that I was using the techniques taught on the training well and that I can think under pressure very well, so I was able to show my progression and development. I was delighted to win, and I am really proud of myself. When I texted my dad that I had won he was really happy for me.
For the experience I have learnt how to remain calm in a pressured situation and I have a lot more confidence with public speaking. I have also gained great communication, people and team building skills.
I would recommend the experience to everyone. I really learnt a lot and I am so proud of the skills I have developed that I can take away from it.
Unfortunately due to COVID-19, the awards ceremony was cancelled, but I really enjoyed the experience. I am so proud to have won. My experience at NIAO and my colleagues really helped; I really appreciate Orla Kee, Human Resources Manager, taking the time to put me forward and supporting me with the application. I would recommend others to take an opportunity like this if they can."